SlipAlert is one of the only two British Standard floor slip test machines.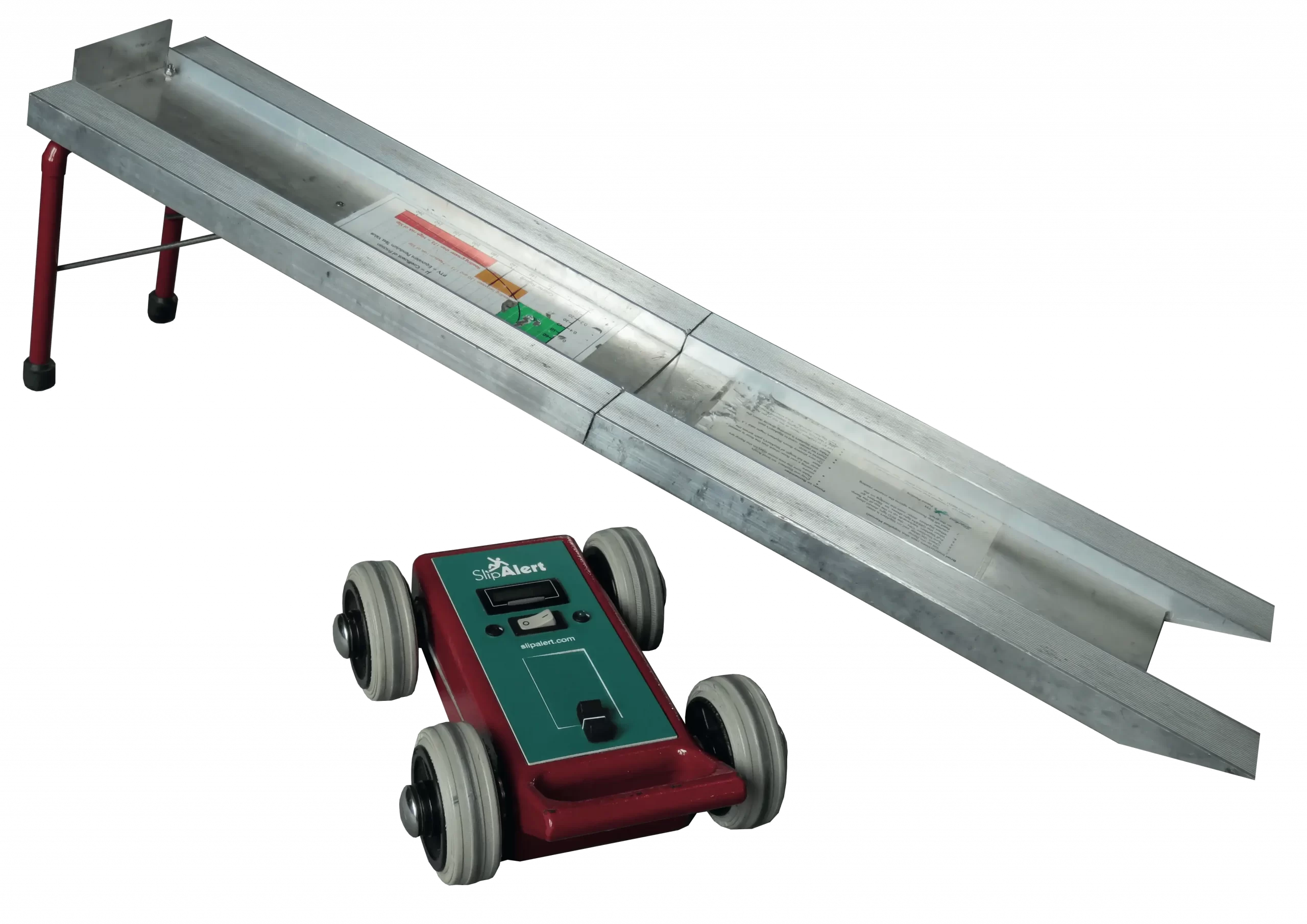 SlipAlert is subject to British Standard BS8204:6.
SlipAlert has been tested and recognised by the HSE as a 'good indication of available friction, lending itself to risk assessment, monitoring of floor surfaces and evaluating & monitoring cleaning regimes.' (HSL Evaluation of the Kirchberg Rolling Slider and SlipAlert Slip Resistance Meters) SlipAlert features in the European Standard BS EN 16165 and British Standard BS8204:6.

SlipAlert is the new British Standard floor testing methodology and global standard in slip prevention. It was designed by Dr Malcolm Bailey who is former chairman of both the British Standards Committee and the European Standards Committee dealing with slipping and the measurement of slip resistance.

Faster than traditional slip testing, SlipAlert corelates directly to results from the Pendulum (Pendulum Test Value) and the Dynamic Coefficient of Friction (CoF) to provide a guaranteed assessment of slip risk. This testing method can be used to test in both wet and dry conditions.

SlipTest convert readings into the same slip potential classification measurement that the Pendulum Test uses, ensuring a consistent measurement to monitor the slip potential. Therefore results showing a value of 36+ are considered to have a low slip potential, with moderate scores at 25-35 and high slip potential scores being between 0 and 24.

SlipAlert is one of only two British Standard floor slip test methods and we use our 25 years' experience along with our customers input to determine which of the two methods is right for the specific environment.

The Rz surface Roughness test measures the surface roughness and should be taken in support of a SlipAlert assessment as it can provide additional information about a floor surface and its ability to cope with contaminants.

The combination of the tests is recognised as providing the most accurate measure of pedestrian slip resistance of a surface in-situ.

All test equipment carries the appropriate calibration and accuracy certification.