SlipAlert is one of the only two British Standard floor slip test machines.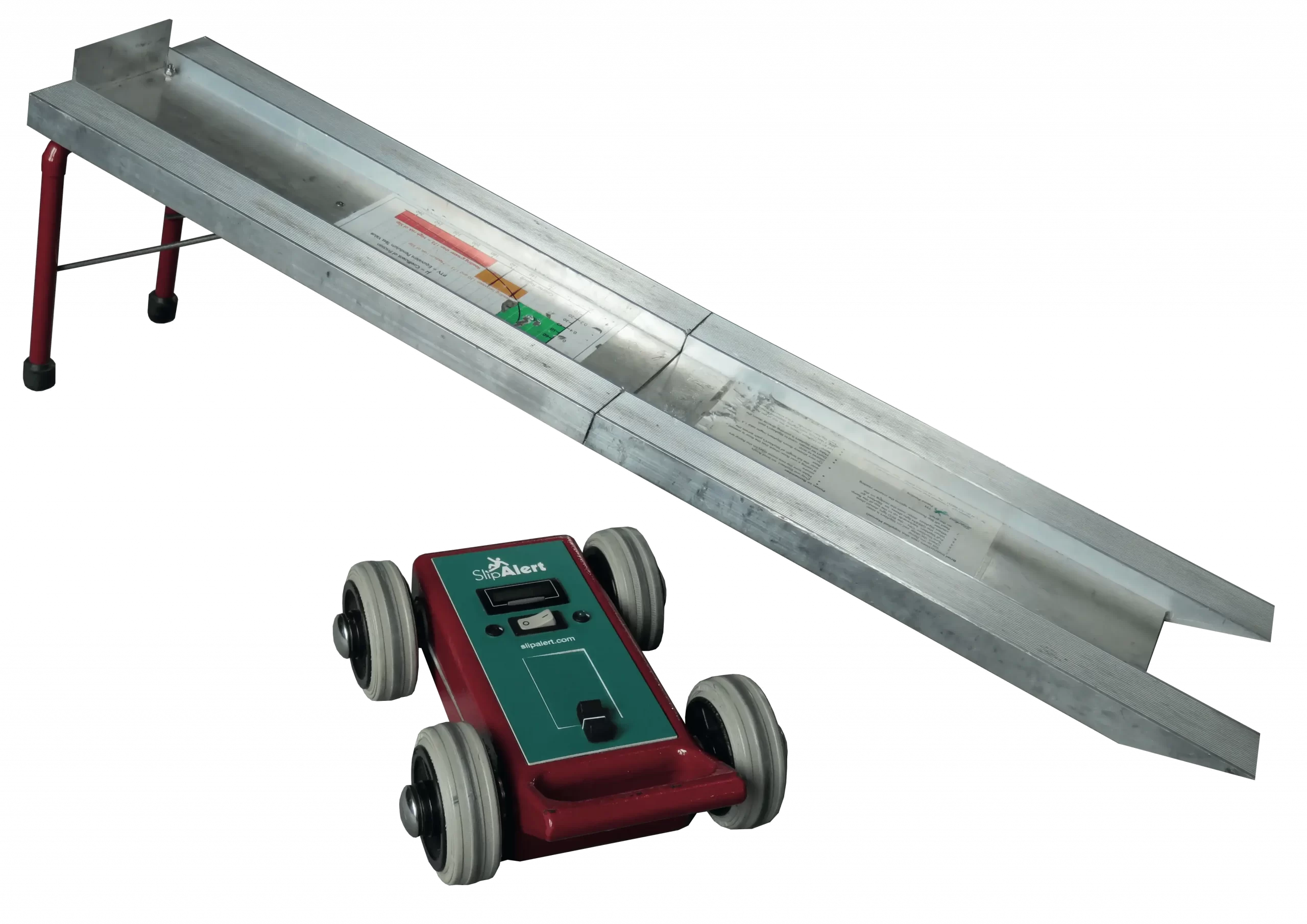 SlipAlert is subject to British Standard BS8204:6.
SlipAlert has been tested and recognised by the HSE as a 'good indication of available friction, lending itself to risk assessment, monitoring of floor surfaces and evaluating & monitoring cleaning regimes.' (HSL Evaluation of the Kirchberg Rolling Slider and SlipAlert Slip Resistance Meters) SlipAlert features in the European Standard BS EN 16165 and British Standard BS8204:6.

SlipAlert is the new British Standard floor testing methodology and global standard in slip prevention. It was designed by Dr Malcolm Bailey who is former chairman of both the British Standards Committee and the European Standards Committee dealing with slipping and the measurement of slip resistance.

Faster than traditional slip testing, SlipAlert corelates directly to results from the Pendulum (Pendulum Test Value) and the Dynamic Coefficient of Friction (CoF) to provide a guaranteed assessment of slip risk. This testing method can be used to test in both wet and dry conditions.

SlipTest convert readings into the same slip potential classification measurement that the Pendulum Test uses, ensuring a consistent measurement to monitor the slip potential. Therefore results showing a value of 36+ are considered to have a low slip potential, with moderate scores at 25-35 and high slip potential scores being between 0 and 24.

SlipAlert is one of only two British Standard floor slip test methods and we use our 25 years' experience along with our customers input to determine which of the two methods is right for the specific environment.

The Rz surface Roughness test measures the surface roughness and should be taken in support of a SlipAlert assessment as it can provide additional information about a floor surface and its ability to cope with contaminants.

The combination of the tests is recognised as providing the most accurate measure of pedestrian slip resistance of a surface in-situ.

All test equipment carries the appropriate calibration and accuracy certification.
Hi, I'm harry I've been at slip test for nearly six years now and working with our customers to reduce their slip risk improve their floor safety and prevent incidents from.
One of the pieces of equipment that we use on a regular basis is our SlipAlert, which is recognised by the HSE as giving accurate results that do correlate with the Pendulum.   
Today I'm just going to give you a very basic demonstration on how the machine works, like the pendulum the machine has a rougher footer attached to the bottom of it and there's two types of sliders that can be attached to the machine, a slider 96 which you would use in a pedestrian area and a slider 55 which would be used in a barefoot area such as a swimming pool for example.  On the odd occasion you might need to use both, a changing room for example.  But predominantly it's the slider 96 we use for the first pedestrian testing.
Now the car has got some weight to it, moves down the ramp and as it contacts the floor the wheels at the back break contact and that footer contacts the floor, now that replicates the heel of the shoe and will continue to slide across that floor
until there is sufficient friction to stop it.  This completely mimics, albeit in reverse, but completely mimics the range of momentum that is experienced by a heel slipping on a on a surface. 
So, it's a great bit of equipment to use and really replicates the mechanics of a slip and so to use the machine we turn it on, reset the light against the back plate on the machine and we let it go to take our measurement.   So, we've recorded 114 on the SlipAlert, that's 114 STV (SlipAlert Test Value), it does directly correlate to a pendulum test value and that's actually a low risk of slip.   
So this floor has performed well and we would usually test in three different directions, five runs in each and then we would take the median average of the score and to determine the dry results.  Wet results are exactly the same, same process used, we wet the floor along the travel of the machine and again releasing down
and we've recorded 136 (STV) on our SlipAlert this time which just dropped that down into the moderate risk of slip for wet conditions.  Again we would take an average of three different directions, five runs in each and the median average would give us the overall score for that surface in wet conditions.
Now, in terms of the scoring, and as I say, much as with the pendulum, we've got our high risk, we've got our moderate risk and we've got our low risk.  The SlipAlert is able to determine which category and give an accurate score of how far into that category for each.
So, that's our SlipAlert, just one of the other pieces of equipment we use here at SlipTest.